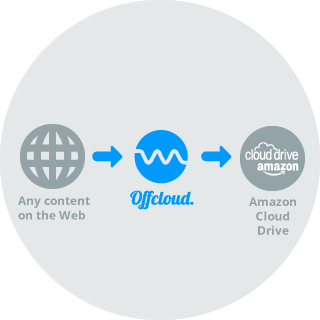 It works with Amazon Cloud.
Offcloud lets you send data from the web to your Amazon Cloud Drive.
Learn how to use Offcloud
Thanks to remote uploading, Offcloud allows you to take any content found on the web and have it directly transferred to your Amazon Cloud Drive account. All it takes is just a click/tap or two.
Connect your Amazon Cloud Drive account with Offcloud, then submit any links pointing to some online content and Offcloud will transfer such data directly to your Amazon Cloud Drive account.
Amazon Cloud Drive is the personal cloud storage service from Amazon, Inc. It allows you to store securely your files in the cloud and access them from any device. Offcloud is the perfect complement to Amazon Cloud Drive as it provides it with a remote upload capacity. Download, backup or export any data from the web directly to Amazon Cloud Drive thanks to Offcloud.
Uploading content to Amazon Cloud Drive with Offcloud is free. With a free account you can submit up to 3 links. Then, from as low as $9.99, you can enjoy the service in an unlimited fashion.