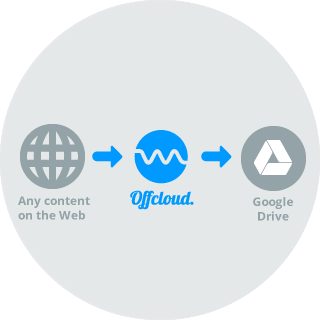 Offcloud and Google Drive
With Offcloud, you can send data from the web to your Google Drive.
If you are a major fan of Google's cloud storage solution, Google Drive, you will be happy to know that Offcloud features a remote uploading functionality that enables you to directly transfer data from the web to your Google Drive.
Offcloud's remote upload capability to cloud storage services like Google Drive in combination with its ability to fetch a variety of formats makes it the downloading companion for people on the move who share and receive large amounts of data on a daily basis.
Now, with Offcloud's premium access to a majority of downloading and streaming websites, like Rapidgator and Uploaded.net, and its support of a variety of formats, including HTTP/HTTPS/FTP & BitTorrent, downloading has never been as fun and convenient.
Connecting your Google Drive account to Offcloud is as easy as going to your settings page and clicking on "Add New Account" under "Remote Accounts". From there, you just need to fill your Gmail and all will be set.
After connecting your Google Drive account with Offcloud, you can submit any links pointing to online content to Offcloud and we'll do the rest. Using our dedicated servers and broad bandwidth connections, we'll download the content you like directly to your Google Drive.
This way, Offcloud empowers you to continue your business with Google Drive as your main cloud storage service and does the heavy lifting in the background. You won't be forced to juggle between different drives, as your Offcloud downloads will be stored next to your other files on Google Drive.
Uploading content to your Google Drive with Offcloud is free. With a free account, you can submit up to 3 links. Then, for just $4.99 per month, you can enjoy the service in an unlimited fashion.