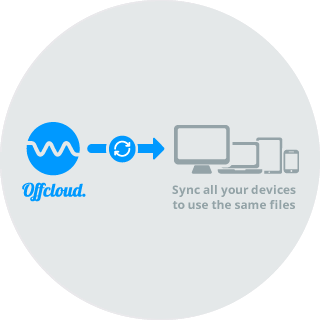 All your devices synced
Offcloud's native support for direct uploads to cloud storage solutions enables you to have all your devices synchronized with your latest downloads.
Nowadays, nearly everyone has two or more mobile devices and maybe a laptop and desktop computer too. Having access to the same set of files on all these devices is essential to stay productive.
Using cloud storage services, like Amazon Cloud Drive, Google Drive or Dropbox is the first step in enabling your different devices to have access to all your data.
Offcloud's remote capabilities empower you to send your desired downloads directly to these cloud storage services, without the need to first download them to your computer.
Thanks to Offcloud, your downloads will be available to you on all your devices. The extra step of downloading to your computer before uploading to a cloud storage service is eliminated.
Offcloud takes on the job of sending your downloads directly to your cloud storage, like Google Drive, and enables you to concentrate on matters that are most important to you.
Connecting any of your cloud storage services, like Google Drive, to Offcloud is as easy as going to your settings page and clicking on "Add New Account" under "Remote Accounts". From there, you just need to fill your cloud storage details and you are good to go.
Remote uploading content from the web to your cloud storage is free. With a free account, you can submit up to 3 links. Then, for just $9.99 per month, you can enjoy the service in an unlimited fashion.