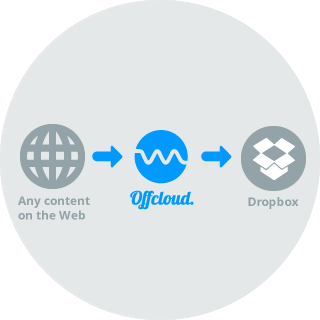 Offcloud for your Dropbox
Offcloud lets you send data from the web to your Dropbox.
If you are one of Dropbox's 400 million users who upload roughly 1.2 billion files to Dropbox every day, rest assured that you can easily continue your Dropbox adventures with Offcloud.
Offcloud's integration with Dropbox gives you a nice and intuitive way to just "move" your files from anywhere on the web directly to your Dropbox.
If you are often on the move and have no choice but to download big amounts of data with limited Wi-Fi connections, Offcloud is just the ideal tool for you. You can copy your data directly to your Dropbox and download it later, when you have a better connection.
The smart combination of Offcloud and Dropbox comes also very handy, if you are a team player and have regularly a lot of data to share.
By connecting your Offcloud service to your Dropbox account, you will benefit from Dropbox's native sync feature in a very smart way. Just send your data to Dropbox, and it'll be available on all your devices without the need for your intervention.
It works with any HTTP/HTTPS/FTP & BitTorrent file or magnet, to name a few. Offcloud functions as a tunnel and middleman between your Dropbox and the data you wish to fetch. It handles all the technical details and lets you concentrate on things that matter.
Connecting your Dropbox account to Offcloud is as easy as going to your settings page and clicking on "Add New Account" under "Remote Accounts". From there, you just need to fill your Dropbox Email and all will be set.
After connecting your Dropbox account with Offcloud, you can submit any links pointing to online content to Offcloud and we'll do the rest. Using our dedicated servers and broad bandwidth connections, we'll download the content you like directly to your Dropbox.
Uploading content to your Dropbox with Offcloud is free. With a free account, you can submit up to 3 links. Then, for just $9.99 per month, you can enjoy the service in an unlimited fashion.