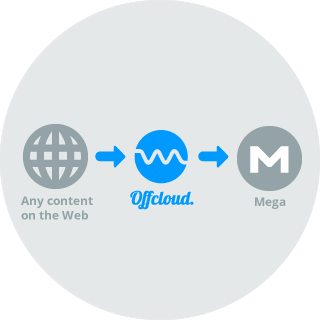 Offcloud and MEGA. The unbeatable duo.
Offcloud lets you route your downloaded data straight to MEGA.
The two most powerful cloud-based services have officially joined forces to bring you the best downloading and cloud storage experience combined with the best security features.
MEGA, known to its followers as the premier privacy company, has become one of Offcloud's target cloud storage service providers for your Offcloud link submissions. Now, Offcloud's remote download capabilities allow you to grab any content from the web, and send it directly to your MEGA account.
If you have an existing MEGA account, simply add it as a new and remote account on the Offcloud's Settings page. Fill in your MEGA account details and you're ready to get started. It's that easy.
Then, you can enjoy this seamless, private, and secure downloading ecosystem with just a few clicks and keystrokes. Copy-paste links of your desired web data and content into Offcloud and we'll take care of the rest. The downloaded data will be safely placed in your MEGA cloud storage in no time.
You can remotely upload content from the web to Mega.nz for FREE. With a free account, you can submit up to 3 links. Then, you can enjoy the service without any restrictions for just $9.99 per month.