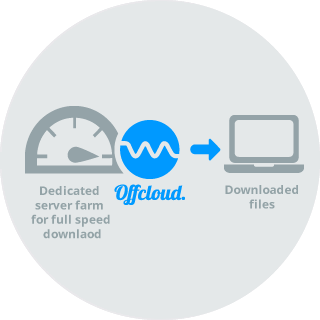 Downloading speeds without end
Offcloud lets you download any content without worrying about speed and bandwidth limitations.
Learn how to use Offcloud
With today's fully media loaded content on the internet and the ever increasing demand for more quality, file sizes are increasing without end, putting a heavy burden on our networking bandwidths.
Offcloud features a dedicated server farm directly connected to the backbone of the Internet that offers you a fast and reliable connection for downloading. Downloading gigabytes of multimedia content from the web will be accomplished in a matter of a seconds.
Traditionally, there has been a variety of tools and services, web based or not, that enable you to download sound and video files from these streaming websites. But they are full of ads and sometimes right out malicious.
Offcloud, as your downloading Swiss Pocket Knife, once again makes the life of downloading easier and enables you to download directly from SoundCloud.
You don't even need to sign up with SoundCloud. It is enough to submit a link from SoundCloud to Offcloud and your music file will be downloaded for you immediately.
Offcloud's ability to capture streams of music and video and convert it to a file for you to download, in combination with its native integration with your cloud storage solutions, like Google Drive, Dropbox or Amazon Cloud Drive, create a first class downloading experience that shouldn't be missed.
Downloading content with Offcloud using our dedicated servers with broad bandwidth is free. With a free account, you can submit up to 3 links. Then, for just $9.99, you can enjoy the service in an unlimited fashion.