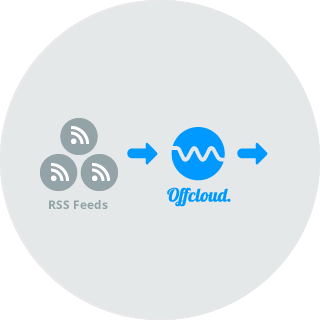 Offcloud and RSS Automated Tasks.
Offcloud uses IFTTT and Zapier to power RSS Automated downloads.
Offcloud never stops innovating. Right after enabling Offcloud integration with IFTTT and Zapier, Offcloud now moves to further automation by using those two web-based automation app to power RSS Automated downloads and backup of cloud storage services.
RSS, "Rich Site Summary" or commonly referred to as "Really Simple Syndication," is a format for delivering and aggregating web content that is regularly changing or updated. IFTTT and Zapier are already good enough to do repetitive tasks automatically on their own terms. But with RSS Automation, they even become greater tools for automating collation of content.
Offcloud not only helps keep avid RSS users informed through their RSS feeds but also takes it a step further. Users can now stay on top of the latest news, stories and development around the web by having RSS feeds and content from several sites automatically downloaded straight to their preferred cloud storage and even backs it up to keep it updated.
With Offcloud, RSS, IFTTT and Zapier all working seamlessly together, each Offcloud users' cloud storage becomes a powerhouse collection of valuable content from around the web!
Automatically downloading content from RSS with Offcloud is free. With a free account, you can fetch up to 3 links. Then, for just $9.99 per month, you can enjoy the service in an unlimited fashion.