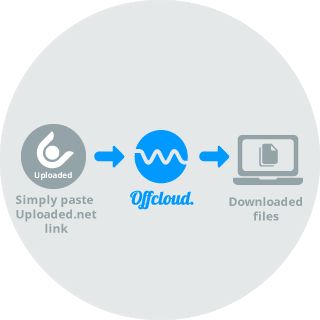 Hand in hand with Uploaded.net
Offcloud's fast and reliable connections with Uploaded.net grant you an unlimited access to premium content
Learn how to use Offcloud
With an Offcloud account, you have an unlimited access to a wide spectrum of premium file sharing services and websites, like Uploaded.net and Rapidgator. You just need to paste their link into Offcloud and click "Fetch".
Premium file sharing services provide faster downloads compared to free services and they offer premium content for downloading that is not available to free users.
Setting up an account for all of these premium file sharing services bears a lot of disadvantages, including the costs, the problem of managing all of the credentials (usernames and passwords) and the flat-out security and privacy risks that connecting to these services entails.
Offcloud spares you the pain by doing the hard work and stands between you and file sharing websites, like Uploaded.net. Your privacy will be protected, while Offcloud connects to services like Uploaded.net.
You don't need any premium account by Uploaded.net and you can benefit from our infrastructure with dedicated high tech servers and unlimited bandwidth.
With a free Offcloud account you can download 3 BitTorrents or links from premium file-hosting services, like Uploaded.net. Then for just $9.99 per month, you can download any number of BitTorrents and enjoy an unlimited access to premium file sharing sites, like Uploaded.net.