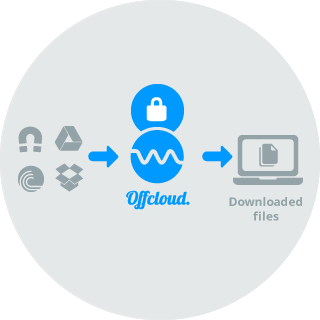 Secure downloading with Offcloud
Offcloud, the vanguard of your downloading adventures, helps you stay secure and anonymous, while you continue to download.
Offcloud lets you download BitTorrent & Magnet files and connect to a variety of free and premium file hosting services without worrying about security and privacy implications.
BitTorrent networks are Peer-2-Peer and can be dangerous due to their very nature and architecture. In Peer-2-Peer networking, your computer makes a direct connection to its peer and there are no defined serving entities.
Opening up your computer directly to unknown parties in the wild of the Internet is never recommended. Unfortunately there are malicious users who profit from such situations.
Connecting to file sharing services on the Internet and downloading BitTorrent files bears some great privacy concerns too.
It may happen that these networks or services track and store your behavior and data. Your Internet service provider (ISP), employer or even government agencies could spy on your network activity and compromise your privacy.
A normal Internet user doesn't have the technical knowhow and time to prepare for the privacy and security challenges of the wild world of downloading.
Offcloud essentially acts as a tunnel and middleman between you and these networks and file sharing services. You stay totally anonymous behind Offcloud and our service becomes the vanguard of your downloading adventures.
With a free account, you can submit and download up to 3 links. Then, for just $9.99 per month, you can enjoy the service in an unlimited fashion.