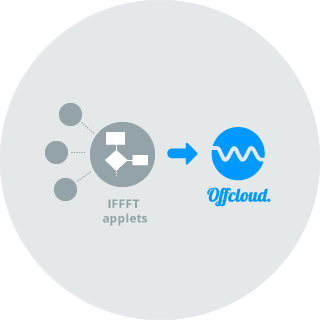 Offcloud and IFTTT.
Offcloud taps into the automation capabilities of IFTTT.
Learn how to use Offcloud
To make your downloading and cloud computing experience seamless and more convenient, Offcloud is now integrating with IFTTT. IFTTT is a free web-based service that enables users to connect different devices with each other and automate various tasks between them.
IFTTT enables efficient automation between your favorite websites and apps. Hence, by tapping into its capabilities, Offcloud can now automate certain processes such as remote uploading and downloading capabilities to and from different websites.
With the help of simple lines of codes that are essentially simple conditional statements, called "Applets," users can now tell Offcloud what to do with data from third party websites and perform tasks automatically.
The beauty of this integration lies in the fact that repetitive tasks can be put into autopilot so users can focus on more important tasks while Offcloud works behind the scenes.
Automatically downloading content with IFTTT and Offcloud is free. With a free account, you can fetch up to 3 links. Then, for just $9.99 per month, you can enjoy the service in an unlimited fashion.