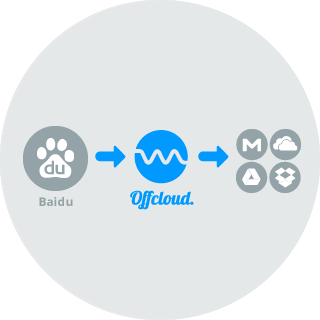 Offcloud links with Baidu, the "Google of China".
Offcloud supports downloads straight from Baidu and to the cloud.
Whether you are a Chinese national, in China, or non of both, but have always wished for a better way to download links from Baidu, you're in luck! Offcloud has successfully set up a way for you to download straight from the Chinese tech giant.
Baidu is known as the "Google of China," the "iTunes of China," and the "Wikipedia of China" among other nicknames. All these mean that it is a dominant force in major categories such as the search engine, music, and the free web encyclopedia domains. And now, Offcloud can tap into this massive resource by supporting downloads from this Chinese tech giant's websites.
Offlcloud linking with Baidu is a remarkable milestone in the industry. Allowing downloads from Baidu's vast network allows all Offcloud users access content where sites where Baidu is a major player and controls huge amounts of data and information.
With Offcloud's easy integration with Baidu, you can conveniently grab any web content and information from Baidu's sites, most especially pan.Baidu.com, and upload them directly to any of your preferred cloud storage services such as your Offcloud storage, Google Drive, DropBox, Microsoft OneDrive or MEGA.
To download the web content, you only have to submit the web content's URL into Offcloud and click "Fetch." Offcloud then will take care of the rest. In a few moments, you can now have your download in your cloud storage ready for use and enjoyment. Moreover, your privacy is protected as Offcloud steps in as your cloud-based downloading client between you and Baidu.
Downloading content from Baidu with Offcloud is free. With a free account, you can fetch up to 3 links. Then, for just $9.99 per month, you can enjoy the service in an unlimited fashion.