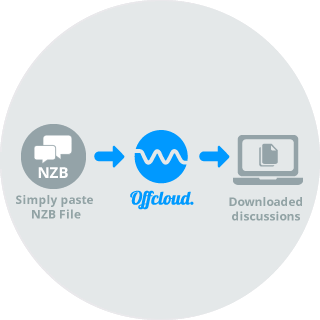 Simple access to Usenet & newsgroup
Offcloud's native integration with Usenet offers a secure Usenet experience without the need for a newsgroup client.
Learn how to use Offcloud
Normally, to download a file from the Usenet or newsgroup network, you need a special newsgroup reader. The software must be installed and run on your computer, raising some concerns regarding your privacy and security.
Usenet usually also requires you to pay a fee to access a quality newsgroup network. And setting up your newsgroup client will require both time and some advanced skills.
Offcloud's Usenet functionality offers the flexibility and availability of a SaaS (Software as a Service) solution, combined with the ease of download that the Usenet experience often lacks.
Offcloud acts essentially as a cloud-based Usenet client in order that you can fetch data from the Usenet network, without compromising your privacy or network performance.
Downloading from Usenet or a newsgroup network has never been simpler than with Offcloud. All you need to do is upload a NZB file to Offcloud and it will download the data for you. Our system will also recognise any kind of newsgroup link.
Downloading content with Offcloud using our dedicated servers with broad bandwidth is free. With a free account, you can submit up to 3 links. Then, for just $9.99, you can enjoy the service in an unlimited fashion.