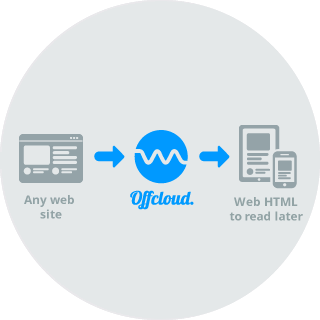 Offcloud and Pocket HTML
You can download your favorite articles to your devices for later reading.
With Offcloud, we ensure that your most precious asset, namely your time, is used efficiently, so that you can concentrate on things that matter most. Offcloud enables you to save the most interesting blogs and articles online and export them to your mobile devices.
Offcloud is smart enough to detect the main content of your pages and extract and structure them into a clean and easy format that is very well suited for a variety of browsers and gives you a beautiful reading experience on different devices.
Offcloud enables you to save your favorite articles to your cloud storage service, like Amazon or Dropbox, so that you can easily access and read them from anywhere, with any device.
With Offcloud's special extension for Google Chrome, you don't even need to leave the page to have it converted. It's enought to right click on any number of links and Offcloud, with its dedicated servers and broad bandwidth, will take care of the rest.
Converting webpages to pocket HTML with Offcloud is free. With a free account, you can download and convert up to 3 links to pocket HTLM files. Then, for just $9.99 per month, you can enjoy the service in an unlimited fashion.