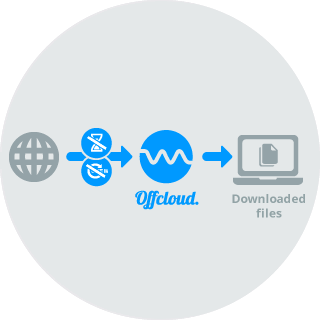 Your downloading journey unlocked
Offcloud's ability to unlock some downloading restrictions, like CAPTCHAs or waiting times, makes downloading fun again.
Learn how to use Offcloud
Our goal at Offcloud is to make downloading as easy and secure as possible and to this end, we have created every imaginable feature and tool to unlock some of the most nagging aspects of downloading.
Offcloud features the ability to solve and circumvent the notorious CAPTCHAs that have annoyed so many of us. You just need to paste the link of your download, or the page where your download is located, into Offcloud and our smart algorithms will take care of the rest.
Another great feature of Offcloud is its ability to unlock geographical locations. Many websites and services limit their features and downloads to users in a specific area.
Offcloud's vast network of servers across the world enables us to download any link you want from different locations and deliver it to your preferred storage solution.
Offcloud has also the ability to pass waiting times on some file sharing websites and instantly download your desired file to a destination of your choice.
With a free Offcloud account you can download up to 3 BitTorrents or links from premium file-hosting services, like Rapidgator, while enjoying our unlocking features. Then for just $9.99 per month, you can download any number of BitTorrents and enjoy an unlimited access to premium file sharing sites, like Rapidgator.