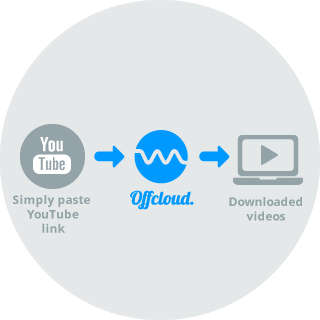 YouTube easy download
Offcloud enables you to download your favorite YouTube videos in a breeze.
Have you ever tried to download video clips from streaming websites like YouTube? You either have to install a separate software on your PC or make use of different online tools.
Offcloud's native support for streaming websites like YouTube enables you to easily download video clips.
You can either have them sent to your cloud storage service, like Google Drive or Dropbox, or you can download it directly to your computer. You have also the option to store YouTube video clips in your Offcloud account.
This service is particularly useful, if you want to save the clips that are served to you, in case you go offline or the streaming service removes the video later on.
To download a YouTube video clip with Offcloud (or a video or audio clip from a similar streaming service for that matter), you just need to paste the clip's URL into Offcloud and click Fetch.
Using Offcloud's integrated video player, you can also watch YouTube video clips directly on our server without the need to first download it.
Downloading content from YouTube with Offcloud is free. With a free account you can submit up to 3 links. Then, for just $9.99 per month, you can enjoy the service in an unlimited fashion.